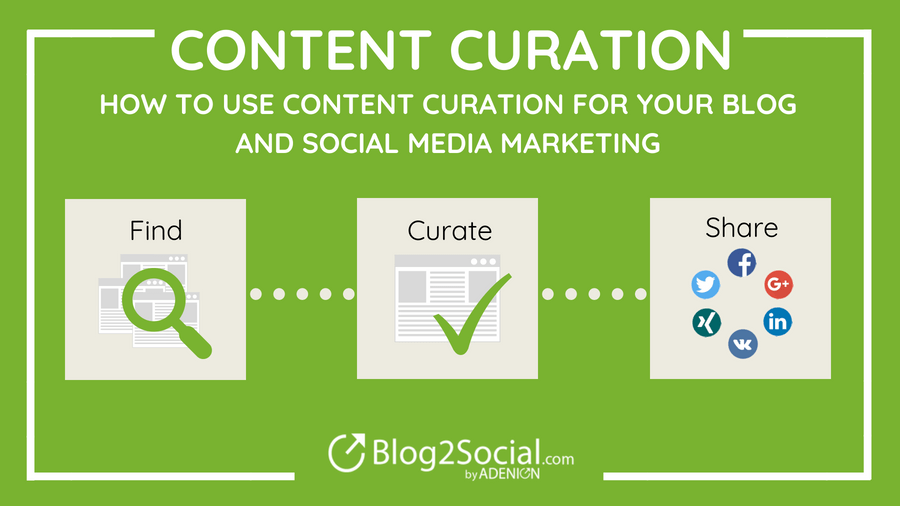 Content curation is one of the most powerful strategies in social media marketing. Sharing third-party content from relevant sources helps to turn your social media channels into valuable content resources for your audience. Content curation has many benefits. Find out why content curation can work out for you, and learn how to integrate content curation into your content marketing strategy to boost traffic and engagement.

Social media are the most important sources to draw attention to your content and to engage with your audience. If you have a content marketing strategy in place you will aim at filling your social media channels with a consistent flow of blog posts, news, videos, infographics or background articles. But do you always succeed in keeping up with the speed of producing fresh and relevant content?

What is Content Curation?
The term Content Curation describes the practice of sharing other people's content (third-party content) on social networks. Beth Kanter describes content curation as "the process of sorting through the vast amounts of content on the web and presenting it in a meaningful and organized way around a specific theme."

Content curation in content marketing means to provide a selection of relevant resources on a very specific topic or theme. This involves collecting, sorting and sharing content that is important to a specific community.

In fact, content curation has a long tradition in social media. Social media users have long since shared posts, photos or videos that they particularly like from their peers and followers and thus make them visible for friends and followers.

Followers will regard every post you share as a "recommendation". If they like what you recommend, they will react with likes, comments. In the best case, they will share your posts with their followers and this will extend the reach of your posts.


EXKURS: Types of Content Curation
Why is content curation valuable for your blog or business?
Valuable content that attracts your target audience is the key to a successful social media strategy. Content that

informs your customers
offers solutions for pressing issues
answers questions
or simply entertains

Your posts should stand out from the crowd, convey your messages and hook followers to your social streams.

Offering valuable content to your followers will bring more followers to your streams. People who like what you share will like and share your content. And so, your content will reach more people to see and follow your posts. Retweets and shares will add to your social trust score and reputation that will help to increase your ranking.

However, do you manage to come up with solid gold content every day of the week? Even if you work with a whole bunch of savvy content writers, you will be somehow limited in fresh ideas, time or budget. The average Facebook user creates 90 pieces of content each month. Can you hold up with this amount?

Shared content does not necessarily have to be your own. Content curation is a good way to fill in the gaps of your own content production.

Especially small or medium-sized companies and bloggers often lack the necessary time or resources to provide in-depth surveys or analyses of their industry. Content curation can help to bridge that gap and refer to articles, studies, or statistics from reputable sources and experts in their industry or niche.

8 Benefits of Content Curation


Benefits of content curation


Still Skeptical towards Content Curation?

Despite these key benefits, some bloggers and content managers stay cautious and skeptical towards content curation. They worry that "promoting" posts from other sources will draw attention to these sources and drive followers away from their own channels.

However, these worries are serious considerations worth exploring.

If all you ever do is sharing links and titles from other sources, then you will not display your own expertise and knowledge, but only those of your curated sources. Your channel may then still be regarded as a good resource of aggregated content, but it will lack your personality and originality.

Content curation actually covers more than just sharing information. It requires "shared value" by providing a context to the shared piece of content, by commenting on it and adding your own thoughts and perspectives, praising or criticising the author, or by highlighting a core statement.

By mixing your own original content with posts from a variety of sources you add a diversity of information and perspectives to your topics. Commenting on your curated posts will not divert your followers' attention, but encourage them to share their own thoughts and perspectives and thus, stay or come back to your streams.

Sharing posts from influencers will increase chances that they will return the favor sooner or later and thus, increase the reach of your own original content.

8 Key Elements of an Effective Content Curation Strategy for Blogs and Social Media Marketing

The core attribute of a successful content curation strategy is that you have a deep understanding of your target audience. A good content curator provides a selection of the best content that matches their interest and adds value to your own original content. So, always think before you share. Do a thorough research on how your audience reacts and engages with different contents and formats. Provide context for the curated content and present a variety of formats such as text, blog posts, images, infographics, videos, and presentations.

How to find the best content for your content curation strategy
Researching the best and most relevant content from a variety of sources can be a big challenge. In order to find top trending topics and news on a regular basis, you can use the following tactics and tools to save time and effort.

1. Research on social media

The best sources of relevant content for curation are the timelines of your peers and industry influencers in the social networks. Follow the most influential opinion leaders and industry media to get valuable content directly delivered into your own feed.

Subscribe to newsletters and push notifications from blogs you read and follow. Most blogs offer you a blog subscription to get update notifications.

2. Use tools to find relevant posts


Nuzzle
Nuzzel provides industry news and media intelligence by scanning thousands of media sites and hundreds of thousands of news that are distributed on social networks every day. In the Nuzzel dashboard, you can collect, feeds and stories on a specific topic. By connecting your social media accounts, you will also see, what your followers subscribed to. So, the friends-of-friends feed can surface news that is buzzing on the outer edge of your own social sphere.

Feedly The news aggregator Feedly is available for various web browsers and mobile devices with iOS and Android and as a cloud-based service. Feedly compiles news feeds from websites you subscribe to.

Pocket The former "Read-Later" app Pocket was founded in 2007 and allows you to store articles, videos, and other contents you find on the net. Any content can be sent to your pocket lists from your smartphone, tablet or computer - even per email. The Pocket browser extension helps you to quickly collect and save what you stumble upon. You can save articles to read and curate later.

Scoop.it Scoop.it makes it easy to find and curate interesting content by specific topics and keywords. With Scoop.it you can add your own sources via URL or RSS feeds.
Bloglovin'
With up to 8 million active users and 750,000 active bloggers, Bloglovin' is the leading online platform for readers from North America and Europe. Bloglovin' was first launched in 2007 as a blog reader offering a wide range of topics from fashion, beauty, and lifestyle to interior design and healthy eating.

Blog2Social Social Media Poster Extension The Blog2Social Social Media Poster can be integrated into Chrome and Firefox and allows instant sharing of web content to Facebook, Twitter, and LinkedIn. You can also add a comment to your posts.

If you want to collect, schedule and customize your curated posts, you can transfer the posts via the browser extension to the Blog2Social WebApp, save them there and customize, comment, schedule, and post your curated content with more advanced options for each of your social media channels. Blog2Social connects to the most popular social media networks. You can share on personal profiles, pages, and in groups.

3. Subscribe to RSS feeds
An RSS feed is a news service that allows you to receive the latest news on a regular basis. You can subscribe to various RSS feeds via an RSS reader. This saves searching for current information on the various websites. News sites, blogs, and corporate websites usually offer RSS-feeds to provide their readers with the latest news and keep them up-to-date via this service.

To subscribe to an RSS feed, you need to know the URL for the news feed.

For example, the feed URL of this blog is: https://www.blog2social.com/de/blog/feed/

With tools like Inoreader, Digg, Feedly or Pocket you can collect and organize your selected RSS feeds and your selected posts for your content curation activities.



How to find the best content for your content curation strategy


How to automate content curation for your blog and social media channels with a single tool

Despite the many advantages, content curation still takes time to:

Research content from a variety of sources
Select the best and most valuable posts for your target audience
Add comments (e.g. hashtags and handles)
Schedule (which network, which release date)
Monitoring of interaction and communication (comments)

However, content curation does not have to become a full-time job, there are helpful tactics & tools that can help you to save time and work. I have already introduced you to several tools for content research in the previous section. Once you have found and selected and distilled your posts, the real curation work begins: customizing, scheduling and sharing across multiple channels.

Don't panic, even for the following steps, there are tools that help you with your tasks to save time and work. Content curation features allow you to customize your posts easily, to schedule and share your curated posts, to mix them with your own content, and to keep track of your shared posts.

Let's take a look at the Blog2Social social media automation tool. Blog2Social helps you organize your complete social media content planning, customizing, scheduling and sharing directly from your WordPress dashboard. This includes customizing, scheduling and sharing your own blog posts as well.

Blog2Social provides you with multiple options:

Content curation via RSS

We remember: RSS feeds provide you with current updates from websites or blogs. If you want to curate content from RSS Feeds on your blog, you can do this easily and automatically with the help of RSS-Feed Plugins. With RSS plugins you can define settings for your selected RSS feeds to publish content automatically on your WordPress blog.

Blog2Social lets you schedule and share these imported posts on your social media accounts automatically. Define to share your posts immediately after publishing or according to your specific time settings.

The key benefit: With only a few basic settings, you can fill your social media channels with fresh and relevant content from your favorite RSS-feeds.

Reading tip: How to automatically post imported RSS feeds as blog posts on Facebook and Twitter

Content curation with individual links from any source
Blog2Social now also allows you to share curated content from any source directly from your WordPress backend on your selected social media channels. This allows you to share any content from any source that you have researched or stumbled upon. Any content that you feel worth sharing with your community. You can share posts from your favorite news sites, web articles, images and video-posts with your selected social media communities.

Just copy the URL of the selected post into the "Content Curation" section.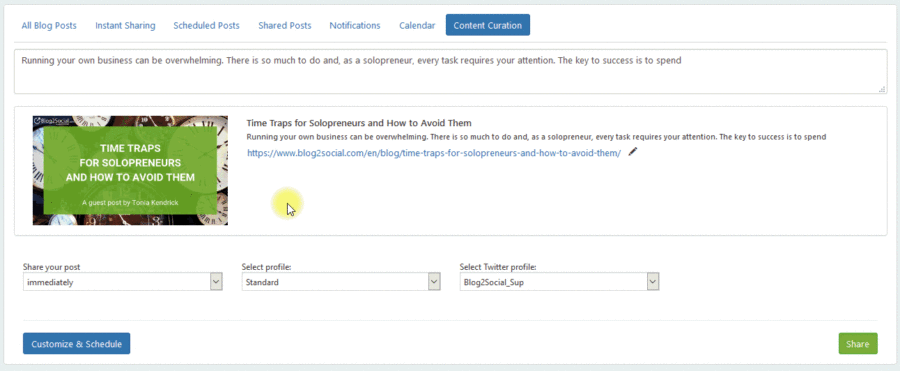 Content curation with Blog2Social

Blog2Social automatically loads the link preview for your post to see how your link will be displayed on social media.

Enter a comment to your link and select whether you want to share your posts immediately or schedule them for a specific date and time.

Share on your standard social media account selection or select a preferred Sharing Profile with your pre-defined social media accounts for your content curation activities (You can also customize your current account selection with the Customize & Schedule option below).

Share immediately or customize and schedule your curated posts with more advanced customizing options. With the "Customize & Schedule" option, a one-page-editor will display a preview of your post for each of your selected social media accounts. You can add an individual comment, select a post format, change the images, and schedule each post individually for each network and community. This option will turn your curated post into even more personal and engaging posts adapted for each social community.



Reading tip: How to share content from any source with Blog2Social

Social media automation of blog posts and curated content right from your WordPress dashboard
With the new content curation feature, Blog2Social provides a complete social media automation suite for promoting your blog post and your imported and curated content. You can automatically share and schedule your own and your curated content automatically across multiple social networks. This lets you easily organize and manage your social media content within a single application right from your WordPress dashboard.

Blog2Social is available as WordPress Plugin, as WebApp and as Browser-Extension for Chrome and Firefox:


Wrap up
Boost the success of your blog and social media marketing with content curation

With Content Curation you can reap from the following core benefits:

Keeps your social media channels filled with a consistent stream of relevant content
Establishes your channels as go-go web-resources on your topic and increases your reputation, brand awareness, and opinion leadership
Ensures content diversity from a variety of high-quality sources, formats, and voices
Sparks influencer relationships and active networking with industry leaders

Content curation is an essential strategy to supplement your own blog posts and promotional content for social media communication. Curating content from a variety of reputable sources will help you to increase your reputation and the reach of your social media channels. By growing your social media community you will increase attention for your own content and drive more traffic to your blog and business. Social media automation tools will help you to save time to fill your social media timelines with a consistent stream of relevant posts for your followers.
Read the full article