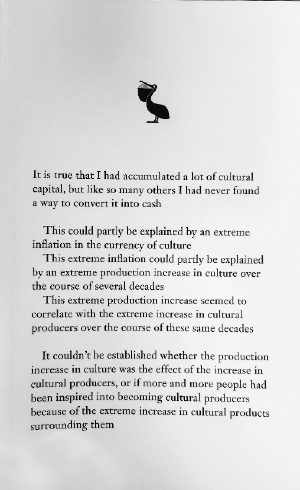 Über Henning Lundkvists Roman "Planned Obsolescence – A Retrospective"

Neulich bei do you read me?! – Moment mal. Zwischen den vielen bunten, topdesignten Publikationen und Magazinen liegt ein schlichtes weißes Büchlein auf dem vollgepackten Auslagetisch, das man leicht übersehen könnte, wäre da nicht dieser lapidare Satz auf dem Cover:

It is true that I had accumulated a lot of cultural capital,
but like so many others I had never found a way to convert it
into cash
Ein solches Statement inmitten eines Zeitschriftenladens full of inspiring magazines, der bevorzugt von lifestyle addicts, fashionistas, influencern und der international contemporary art crowd frequentiert wird, gibt Anlass zur Verwunderung ...

Erschienen in der von hundert 09-2019

Original