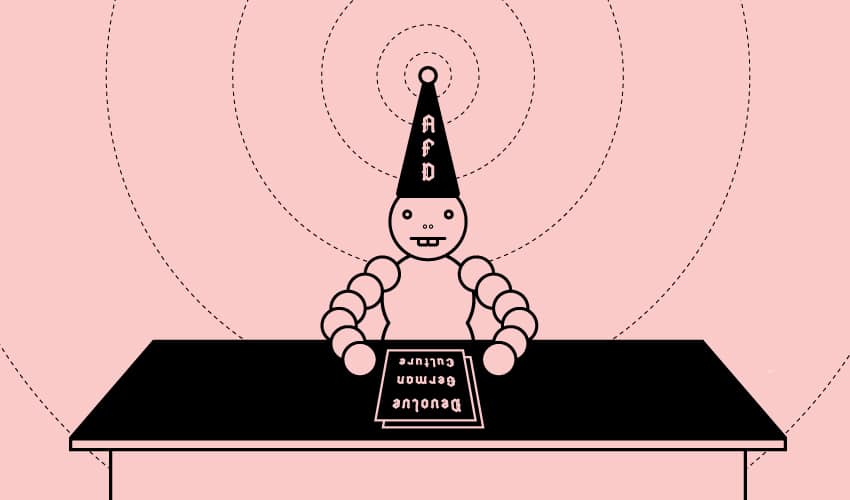 Alternative für Deutschland will enter German parliament today - according to Deutsche Welle, this constitutes "the first time in nearly six decades" that a far-right party has entered the Bundestag . As Die Zeit has already observed, even before the AfD made it into the Bundestag , they'd already managed to push political discourse further right through their senior officials' provocative statements and through their presence on television debates, prompting concern about what this will mean when the party actually makes it into the official governing body. So how does Germany feel about the AfD entering parliament? Hard to say - DADDY has limited its survey to people we know and as such, those working in the media and those who live in Berlin are overrepresented here. Still, we hope that we've managed to provide a snapshot of both expat and German feelings at this time.
I didn't want to believe what I saw - just around the corner of my apartment I was confronted with a poster showing a very white blonde pregnant woman, breeding - and this was the actual claim - real new Germans. This looked way too familiar to my memories of what Nazi propaganda looked like in my school books.
I recognise that having the capacities and resources to be socially and politically active is a privilege. Lately, I feel like no matter where you look, big ideas like the EU seem to be too abstract for lots of people to believe in them. Instead nationalist and fascist leaders, borders and racism seem to do the deal and satisfy those who want more for themselves. I've worded it this way, because I want people - especially fellow journalists - to stop hiding behind terms like "fear", when relating to the motifs of racist violence. Racists aren't afraid of the people they other. Nazis aren't victims of bad social backgrounds that made them into hateful predators. There are no scared racists just like there are no homophobes, only anti-queers. There are people who hate, destroy and shame everyone who do not fit into their idea of a human.
Valerie-Siba Rousparast, 29, journalist/photographer
That the AfD has managed to become the third most popular party in the Bundestag doesn't really surprise me. The party was so hyped by the media that any other result would have surprised me. It's often said that we live in "turbulent" times, I believe this overwhelms many people and these people want to solve this sensation of being overwhelmed somehow. Only the easiest solution - trusting populist voices - is rarely the best. I acknowledge their success but I'm not freaking out about it. Because I'm sure that the AfD won't do well in the Bundestag, they'll make a fool of themselves each day and ultimately, all of their voters will end up asking themselves how they could be stupid enough to give their voices away.
Like many others, I was disappointed to see AfD win seats in parliament. As someone from Japan, a country that accepts very few asylum seekers or immigrants in general, I've always been impressed by the power of immigrant communities here and the country's effort to welcome refugees. The election results and the ugly campaign AfD ran ahead of it were an important wake-up call for me. I think people are right to feel concerned about the rising power of AfD and what it means for Germany. But I think it's also important to remember that an overwhelming majority of Germans still voted in favor of open borders at a time when many countries are turning inward.
As a naturalized German citizen who was born to Turkish parents and raised in Berlin, the AfD's election into parliament leaves a bad taste in my mouth. But it also doesn't come as a surprise to me at all: I've experienced various forms of racism in Germany throughout my 30 short years living in this country; sometimes blunt, sometimes indirect, too often institutionalized. The fact that this party and its supporters try to deflect their racism and hate being called Nazis is a joke, considering the fact that they clearly use tried, tested and proven tactics that have worked for the NSDAP before. This election made one thing very clear for me: You and I will need to call out and name racism in every single instance it's presented to us - it's time to take off the gloves.
Original