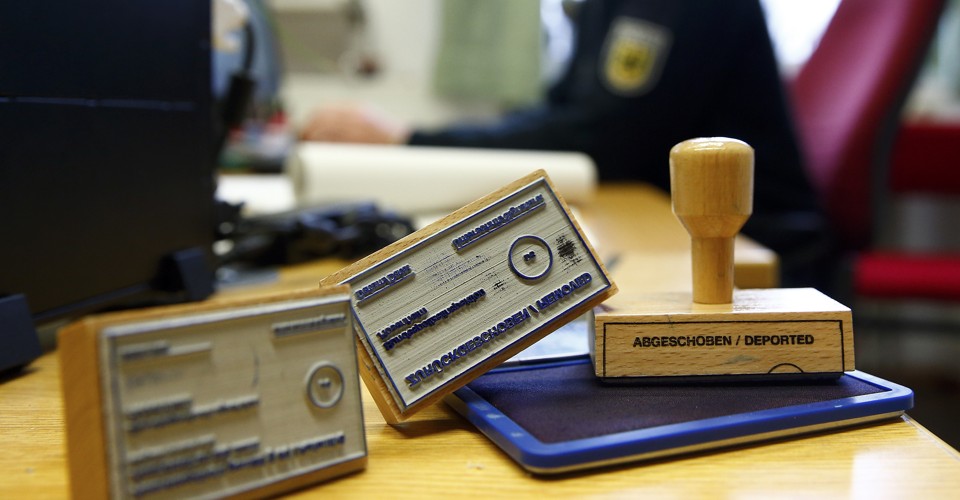 "Germany does not face Afghans in the same way they face Syrians or Iraqis. The authorities give us the feeling that we are not welcomed here."
Michael Dalder / Reuters
On the day before Eid al-Adha, the high Islamic holiday, several dozen Afghans stood in the blistering heat to try to obtain one of their government's modernized, biometrics-based passports. The updated travel documents are intended to meet international standards for identification, and are aimed at preventing fraud. But many doubt the Afghan government's good intentions: Last year, their old passports were rendered invalid and the new ones compulsory, leading some to assume they're simply a money-making scheme.
One of those standing in line, 27-year-old Ajmal, hoped to first make it to Turkey and then on to Europe. "I'll leave this country. Every time when I go out of my house, I'm not sure if I will see my mother again. There is always the possibility to get killed by a bomb," he said.
Such fears are particularly acute for members of religious and ethnic minorities in Afghanistan like the Shia Hazaras. Reza, a 26-year-old Hazara, was also waiting for his documents at the passport office that day. His preferred destinations are Europe or Australia, where his relatives are waiting for him. "Many people have a reason to leave. ... [R]ecent events in Kabul"-including suicide attacks and shootings-"proved that especially Shia Muslims have become a target. Sectarianism and hatred have increased," he said.
Related Story
A New Home and a New Religion in Germany
The corridors of escape, however, are swiftly narrowing. At October's Brussels Conference on Afghanistan, the European Union agreed to support the effort to rebuild the war-torn country with $15 billion in aid over the next four years, in exchange for promises by the government to address corruption, political reform, and human rights. At the same time, the Kabul government also agreed to "Joint Way Forward," a deal that will allow EU states to deport Afghan asylum-seekers. It also requires Afghanistan to readmit any of its citizens who have not received asylum in Europe and have not agreed to go back to their country voluntarily. Although the agreement did not stipulate exact numbers, tens of thousands of Afghan asylum-seekers could be deported in the near future. To speed the mass deportations, the Afghan government promised to expedite the relevant bureaucratic processes. Rejected asylum-seekers, for example, will receive their Afghan passports faster. In addition, the Afghan government plans to build a special terminal at the airport in Kabul for those who have been forced to return.
But the deal seems to ignore the obvious. For those seeking to leave Afghanistan, rebuilt bridges, roads, and power plants have little bearing on their calculation. Many are simply trying to avoid death. According to the United Nations Assistance Mission in Afghanistan (UNAMA), civilian casualties have reached a new peak since the organization began publishing reports on civilian casualties in 2009. Between January 1 and September 30 of 2016, at least 2,562 civilians have been killed, while an additional 5,835 have been injured.
Original